How to Use Tree Stump Seats for Your Fire Pits
Have you ever wanted to try using tree stump seats for a fire pit? Well, you've come to the right place because we are going to tell you what a brilliant idea that is, and how you can achieve that!
A fire pit is an excellent spot in the house where friends and family can gather around to spend time with one another. That's where having the right seats can make a whole lot of difference. Let's explore how you can use tree stumps to elevate your outdoor space.
Why tree stump seats for fire pit are a great idea
So why should you be using tree stumps to make the seating for a fire pit? One of the most obvious reason is because its natural and rustic appeal would match any outdoor space. The seats can blend with the surrounding environment and become an extension of the gardens around!
Not only that, but these seats are quite easy to build and set up, whether you are buying or creating your own. They are also much more affordable than getting outdoor furniture or benches made from manmade materials.
Another thing we love about tree stump seating is the fact that they don't need much maintenance. They are literally just a stump of a tree, and trees thrive in the outdoors anyway, so there really is no need for you to maintain them!
Making your tree stump seats for fire pit
We have mentioned that making tree stump seats can be quite easy, so let's briefly look at how you can do just that! We recommend choosing a log with a diameter between 14 to 16", then use a chainsaw to cut it on both ends so you'll end up with an 18-inch stump. This is a comfortable height for adults to sit on.
Next, sand the surface of the seat until it is completely smooth and free from any splinters and rough patches. That's all! Repeat the process as many times as you need to provide enough seats for your fire pit.
Our main tip would be to use dried and seasoned logs as this will remove any sticky saps and make the piece easier to work with.
4 Stunning tree stump seats design for your fire pit
Achieve a classic look with basic tree stump seats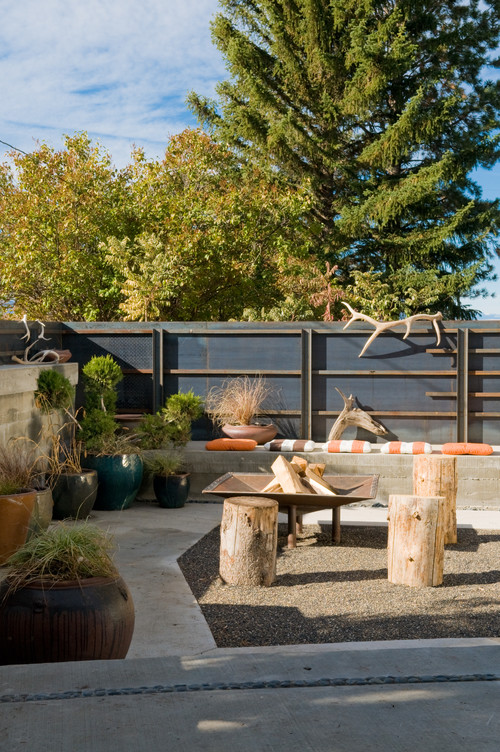 In this first photo, you may be able to see how these basic tree stump seats add so much personality to the space without doing much at all. This also shows you that you can place these seats in a backyard of any style, and they will look right at home. For instance, this is a modern home with lots of contemporary elements, including the bright orange pillows and asymmetrical yard shape.
For the tree stumps themselves, we will talk about how you can build your own simple models like the ones here. The customization comes down to how large and tall you want the seats to be, although making them too tall and wide might make them uncomfortable to sit on
Create unique tabletops using tree stump seats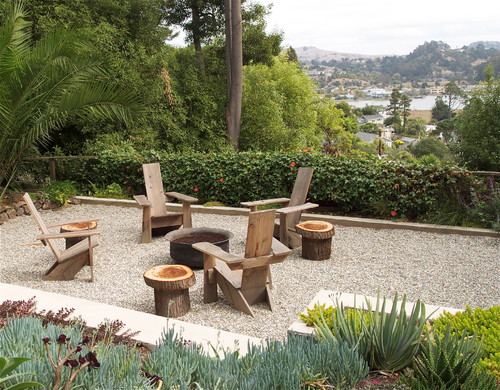 Photo by Derviss Design – Look for landscaping pictures
To build on the simple tree stump seat structure, you can go one step further and turn the seats into a small side table! For example, look at how the seats can also become a beautiful accent to the fire pit area. All you need to do is simply chainsaw a piece of the tree that is wider than the base and affix them on top.
Moreover, you may also notice how the chairs around the fire pit are also completely made of wood. While they aren't raw tree stumps, these boards are made only using natural raw materials. Together, they can create a rustic and country-inspired ambiance for your lawn
Use tree stumps to build a rustic bench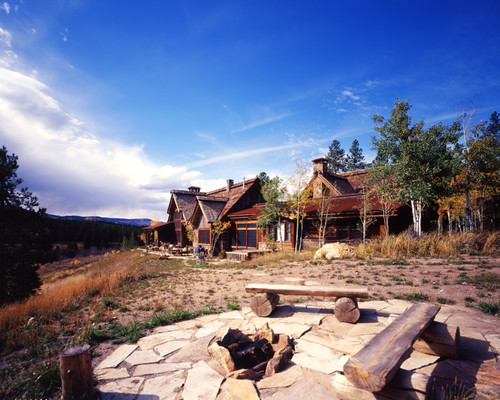 Photo by Lynne Barton Bier – Home on the Range Interiors – More exterior home ideas
For this next example of using tree stump seats, you may want to give a little more time and effort on the carpentry. You can see how the tree stumps actually act as the "legs" for these benches, and that you will have to place a thick block of wood on top of two stumps.
We recommend this style of seating for those of you who like to host large groups of people. While basic tree stump seats can only be for one person, a single bench can fit multiple people at once! Again, we think that this look will fit any style of fire pit, although the rustic vibe it exudes is perfect for a mountain-styled home or cottage!
Combine your tree stump seats with folding chairs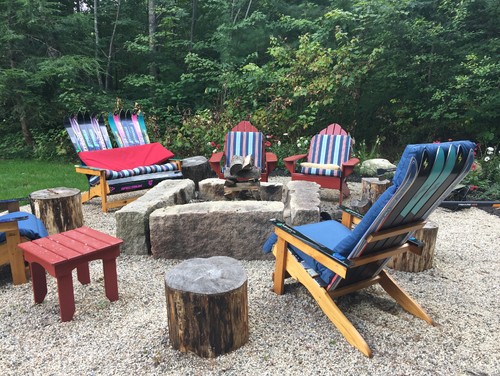 Photo by Ted Carter Inspired Landscapes – Look for landscaping design inspiration
Last but not least, it can be a great idea to combine the natural, rugged look of a tree stump seat with the bright and colorful upholstery of folding camp chairs. The photo above illustrates what it means to create an eclectic patio with a fire pit and lots of seating so you can host large groups of guests.
For sure, the tree stump seats around this fire pit are true attention-grabbers, especially as they blend with the gravel ground and the stone fire pit. These materials are simply an extension of the surrounding environment and evokes a very natural feel.
But that is where the fun and multi-coloured additions come in! We absolutely adore how the striped cushion and bright red chairs look together. They provide an appealing contrast that is also fitting for a modern home.
Final thoughts
Now that you have seen some stunning ideas for using tree stump seats around your fire pit and how to make them, it's time to put the plan into practice.
When you are arranging the seats for your fire pit, think about how close you want them to be to the flames. How many seats do you need? Is it the right distance for people to roast marshmallows easily?