The Highest BTU Propane Fire Pit Buying Guide
If you're trying to buy the highest BTU fire pit for your home, you've come to the right place. Gas fire pits are great because they're easy to use, low maintenance, and produce no open flames.
BTU (British Thermal Units) itself refers to the measurement for heat generated by the gas pit, and a higher BTU means it can produce more heat. While the general rule of thumb is to look for gas pits with a high BTU number, it is not everything!
Other factors to consider include pressure, size of the orifice, as well as the burner's size itself. Without further ado, here are some of our top recommendations for propane fire pits.
Highest BTU propane fire pit
1.      Oriflamme Tuscan Fire Table
The Oriflamme Tuscan Stone Fire Table is a sleek-looking product that comes with a quartz-concrete finish and beige surface with an aluminium-coated base. If your priority is aesthetics, then this might be a great choice for you.
It's rated at 75,000 BTU, while the dual propane tanks mean you can enjoy a super long burn time – perfect for long winter nights!
There is also a lid you can use to place on top of the fire pit, therefore transforming it into a classy outdoor table. This comes in some attractive colours too, including bronze, copper, and platinum.
2.      Outland Living Gas Fire Pit
Outland Living is known for its impressive range of outdoor products. Specifically, the Outland Firebowl 893 gas fire pit boasts a rating of 58000 BTU despite having such a small and compact size.
At only 19 inches wide, this is a super portable option which means you can use it for camping and other outdoor adventures. The product even comes with a year-long warranty, while the rocks give it quite a beautiful look.
3.      Outdoor GreatRoom Company UPT-1242 Uptown Fire Table
The Outdoor GreatRoom Company UPT-1242 Uptown Fire Table is rated 80,000 BTU. Not only does it provide long-lasting hot fire, but it also features a gorgeous, tiered table structure. The strong stucco base is durable and stable.
Indeed, the graceful porcelain tiled tier looks quite exquisite against the bold, heavy-duty top tier. Not to mention that this fire pit comes with a pretty diamond fire glass lid cover!
Don't worry about the operation, as the push button and automated DSI system provide some options for ignition, depending on your preference. It also features a stainless-steel burner that is safe.
4.      Bali Outdoors Gas Fire Pit
This 50,000 BTU gas fire pit is another great choice if you want something small yet super warming and powerful. It weighs only 50 pounds and measures only 28 inches on its longest side.
Even better, it has a stunning black faux finish and can double as an outdoor table. While you may have to assemble the parts yourself, it is quite easy and straightforward. After that, turning on your fire pit is as easy as pushing a button!
5.      U-Max Gas Fire Pit
When it comes to comprehensive features and certifications, you won't find a more perfect highest BTU propane fire pit than the U-Max. It is extremely safe, thanks to its CSA certification and glass wind guard. This last feature can protect the flame and prevent you from accidentally touching it.
With 50,000 BTU and large, 44-inch size, this fire pit is a real beast for your courtyard or garden! Its simple yet sleek look may be what you need if you are looking for a quintessential equipment to complete your home!
How to buy the best, highest BTU propane gas fire pit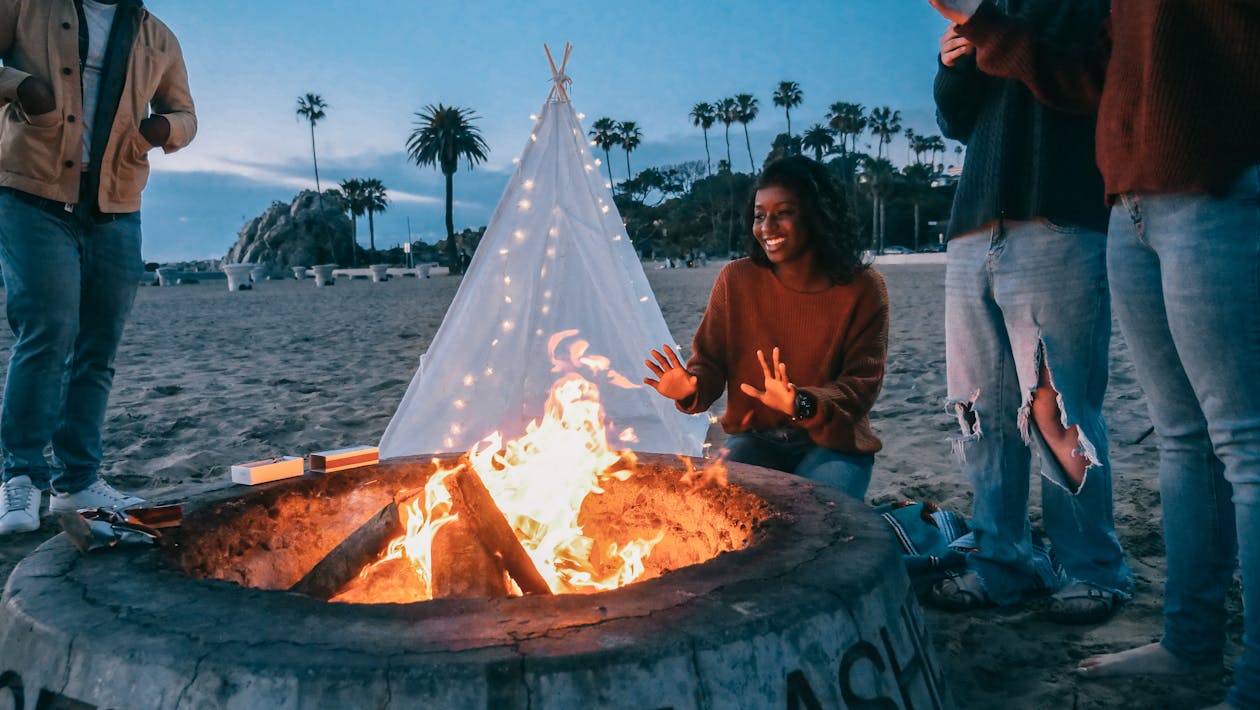 The first thing to look at is the heating capacity, which is measure in BTU. You've seen us recommend some top products that have at least a 50,000 rating, which is a good benchmark to aim for.
Next up is the size of the fire pit, which depends on what you need it for. Where are you planning to place it? Do you need a large model to furnish your backyard, or a small and compact fire pit that is portable?
Finally, do not overlook the material of your propane fire pit, as this can affect its durability and quality. Most are made from some type of steel, which is a safe bet. It's a durable metal that can resist harsh weather.
What is the highest BTU propane fire pit?
At 80,000 BTU, the Outdoor GreatRoom Company UPT-1242 Uptown Fire Table would be the highest-rated BTU fire pit we have featured today. This is a great option for those wanting the hottest possible fire pit for their home!
How many BTUs Should a propane fire pit have?
In general, a standard propane fire pit has anywhere between 40,000 to 150,000 BTU in terms of thermal capacity. It all depends on what you are using your fire pit for. If you're simply looking for something for personal use, we would say that a 60,000 BTU machine is more than enough.
Is 90,000 Btu good for a fire pit?
Imagine the heat from a burning candle. That would measure 1 BTU. Meanwhile, an everyday floor heater is usually around 5,000 BTU. You can use this to estimate how hot a 90,000 BTU fire pit is like. We'd say that this rating is suitable for commercial rather than personal uses.
How do you increase the BTU on a propane fire pit?
The thing is that you can't really change the BTU of your propane fire pit. But there are some tricks you can try to increase the het capacity and help the fire pit produce hotter flame. One of our fool proof tips is to place lava rock in a pyramid-style arrangement around it. This will trigger the heat to rise and also heat the rocks!
That's all you need to know about buying the highest BTU propane fire pit. Don't forget to compare at least a couple of options and see which once suits you most. There are tons of online reviews to help you with this decision.